What can we do?
What can we do?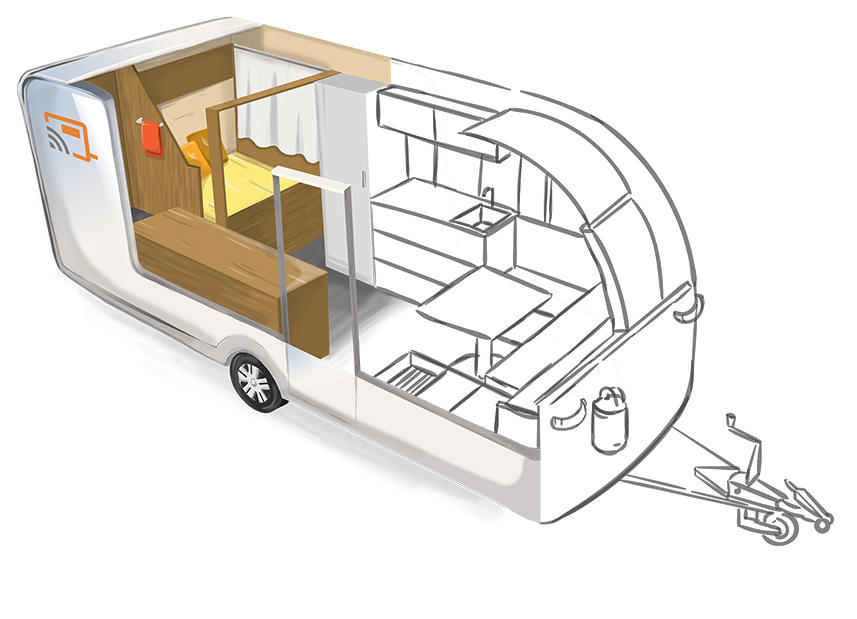 Navigate your cursor on the icons to display more information
Wireless infrared gas leak sensor launches air exchanger automatically upon the detection of propane-based gases. You will also receive a text message and notification.
Communication with the electroblock allows you to switch it on or off. You will also see your leisure battery's voltage.
Manage up to 10 light channels with the possibility of dimming and voice control.
You can interconnect our or third party gas leak sensors with our system. You will then receive notification and the SMS upon detection of gas presence in your living area.
You can control your heating and airconditioning anywhere you are. Swap through temperature profiles, change power sources and more.
Wireless senors for windows and doors will automatically send you an SMS and notification upon intrusion. Additionally, these sensors are capable of sounding the acoustic alarm, if your vehicle is equipped with a siren and can also warn you about open windows or doors upon startup of your engine.
Measure the contents of up to two bottles at once wirelessly. Should there occur a gas leak from your bottle or a hose, the integrated gas leak detection will warn you in the form of notification and SMS. The pad is also endowed with a temperature and tilt sensor.
CaraControl - Remote control, security and gas measurement in one box
CaraControl system is a technological leader in the field of autonomous intelligence of leisure vehicles, mobile homes and small boats.
As the only system of its kind it allows connection to most of currently available heating sources and can be connected to the existing pre-installed electronic devices or work independently. It is designed universally and its operation is not limited by the era of production or factory configuration of the mobile home.
CaraControl central unit is equipped with number of communication ports for connection of external devices and can, for example, turn naviceiver into the control panel of the whole system.
Integrated support of local wireless transmission allows connection with different security sensors, Keyless Go card with Welcome Home function or wireless measurement of gas bottle filling level.
Multifunctional sensors of our production ensure constant surveillance of air quality in the living area and in case that limit values exceed the air exchanger launches automatically to rebalance the inner atmosphere.
All the information from electronic systems and sensors is then transmitted into smart phone application for OS Android or iOS. Remote controlling and settings can be executed locally via Bluetooth Low Energy with minimun load on the leisure battery or remotely via GSM network.
Key features
Interconnection with existing electroblock or independent operation
Universal application irrespective of the period of production and factory equipment
High quality automotive hardware based on the latest technologies
LIN-BUS, CAN-BUS, 1-Wire, USB, UART / RS232 / RS485 buses
Wireless communication via ISM, Bluetooth, cellular or satellite network
Automatic remote firmware updates for all system components
Deep configuration system based on your preferences
Keyless Welcome Home function with contactless door locking
Support of the world's leading device manufacturers in caravan technology
Configurable inputs and outputs with switching power of up to 870 Watts
Energy Boost mode for increased energy self-sufficiency
SMART APPLICATION FOR MOBILE DEVICES
CaraControl Smart App is high-quality native software made by leading developers in the field. As the only one application of its kind, it is designed in up-to-date style with user-friendly controlling scheme. Integrated autonomous functions and secure communication with caravan or motorhome is the guarantee of your best choice. With automatic updates you will stay in the game of our novelties!
INTERFACES, PERIPHERALS AND FUNCTIONS
| Interfaces | Functions |
| --- | --- |
| 2x antenna connector, 1x integrated antenna | GSM communication and ISM wireless devices, Bluetooth Low Energy |
| 1x SIM card slot | user insertable SIM card |
| 1x micro USB port | service settings |
| 2x port for external units | connection with external GPS and touch-screen panel |
| 1x port for external multimedia devices | connection with naviceiver in App mirror mode |
| 1x port for power supply control | communication with Schaudt / Nordelettronica |
| 1x port for heating / aircondition | CI-BUS / TIN-BUS for Truma Combi / Aventa, communication with Alde |
| 1x vehicle CAN-BUS connector | Connection with CAN-BUS for reading the status of the central locking |
| 1x external measurement connector | probe for accurate current measurement to / from the leisure battery |
| 2x temperature sensor connector | indoor and outdoor temperature |
| 1x power and external appliances connector | power, pump, waste tank or floor heating, siren, air extractor |
| 1x logical I/O connector | car ignition, car battery voltage, solar panel, electricity presence, aux heating control, electric door locking |
| 1x water probes connector | fresh and waste water tank level scan |
| 1x alarm inputs and lighting circuits connector | entrance door intrusion, luggage door intrusion, gas alarm, smoke alarm, power switch, 5x scanning inputs of factory switches |
| 2x lighting circuit connector | 5x dimmable circuits up to 10 Amps max. and 5x dimmable circuits up to 2 Amps max. |
| on board 3-axes accelerometer | leveling assistant, tilt alarm |