What can we do?
What can we do?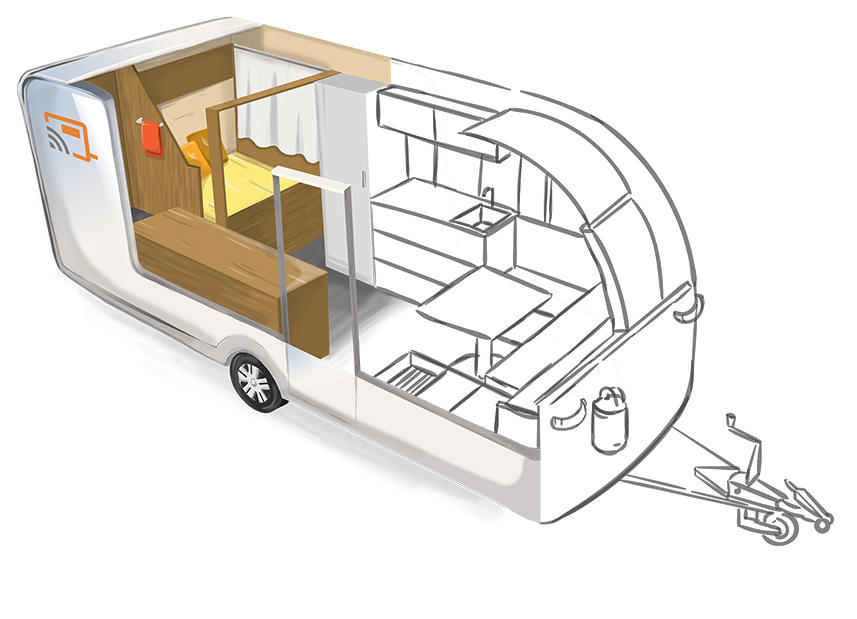 Navigate your cursor on the icons to display more information
Wireless infrared gas leak sensor launches air exchanger automatically upon the detection of propane-based gases. You will also receive a notification.
Communication with the electroblock allows you to switch it on or off. You will also see your leisure battery's voltage.
Manage up to 10 light channels with the possibility of dimming and voice control.
You can interconnect our or third party gas leak sensors with our system. You will then receive notification upon detection of gas presence in your living area.
You can control your heating and airconditioning anywhere you are. Swap through temperature profiles, change power sources and more.
Wireless senors for windows and doors will automatically send you a notification upon intrusion. Additionally, these sensors are capable of sounding the acoustic alarm, if your vehicle is equipped with a siren and can also warn you about open windows or doors upon startup of your engine.
Measure the contents of up to two bottles at once wirelessly. Should there occur a gas leak from your bottle or a hose, the integrated gas leak detection will warn you in the form of notification. The pad is also endowed with a temperature and tilt sensor.
All-in-one smarthome solution for RVS
CaraControl system represents a pinnacle of the modern way of mobile living, allowing remote controlling, security and monitoring of different statuses, such as gas levels and more. 
From the very beginning, the system was designed to be as universal as possible, allowing it to be connected to third-party devices, such as heating panels or air conditioning to cover any owner of practically any leisure vehicle in question.
Additionally, users can also connect certain third-party alarm systems, such as smoke detectors, gas sensors, motion sensors and more.
The central unit is equipped with a wide array of communication ports to allow the multitude of functions available, but also to ensure that the unit stays future-proof. 
Furthermore, our hardware is capable of wireless transmission, making the connection of different environmental sensors, such as security sensors, Keyless Go cards or gas measuring pads possible. 
All information from electronic systems and sensors is then transmitted into a smartphone application for Android or iOS. Remote controlling and settings can be executed locally via Bluetooth Low Energy with minimum load on the leisure battery life or remotely via GSM or NB-IoT network.
Key features
Interconnection with existing electroblock or independent operation
Universal design granting compatibility with nearly all leisure vehicles
High quality automotive hardware based on the latest technologies
Wireless communication via Bluetooth, GSM or NB-IoT network
Automatic remote updates adding new functions
Configuration options to satisfy your preference
Keyless Welcome Home function
Unparalleled compatibility with RV industry devices 
Application runs in multiple languages
Minimal impact on the leisure battery life
SMART APPLICATION FOR MOBILE DEVICES
The CaraControl app is a native and user-friendly software available for iOS and Android. Allow yourself to enjoy maximum control and peace of mind wherever you are, now also in several languages. Feel free to download our app on Google Play or AppStore free of charge and try the demo mode to get the feel of our system.
INTERFACES, PERIPHERALS AND FUNCTIONS
| Interfaces | Functions |
| --- | --- |
| 3x antenna connector, 1x integrated antenna | GNSS, GSM/LPWA communication and ISM wireless devices, Bluetooth Low Energy |
| 1x SIM card slot |  2G/NB-IoT ready global SIM card |
| 1x micro USB port | service settings |
| 2x port for external units | connection with touch-screen panel or external devices based on RS line or CI-BUS |
| 1x port for external multimedia devices | connection with naviceiver in App mirror mode |
| 1x port for power supply control | communication with Schaudt, Nordelettronica, CBE or generic power supply |
| 1x port for heating  | CI-BUS / TIN-BUS for Truma Combi or Alde heating systems |
| 2x vehicle CAN-BUS connector | connection with CAN-BUS for reading the status of the vehicle / communication with another CaraControl OBU |
| 1x external measurement connector | fuel tanks measurement |
| 1x temperature sensor connector | outdoor temperature |
| 1x power and external appliances connector | power, pump, waste tank or floor heating, siren, air exchanger |
| 1x logical I/O connector | car ignition, car battery voltage, solar panel, electricity presence, aux heating control, electric door locking (OEM only) |
| 1x water probes connector | fresh and waste water tank levels |
| 1x alarm inputs and lighting circuits connector | intrusion, alarm/panic, gas alarm, smoke alarm, power switch status, 5x scanning inputs of factory switches |
| 2x lighting circuit connector | 5x dimmable circuits up to 6 Amps max. and 5x dimmable circuits up to 3 Amps max. |
| on board 3-axes accelerometer | leveling assistant, tilt alarm |