What is CaraControl?
What is CaraControl?
All-in-one smart home solution for RVS
CaraControl is the idea which arose out of need of you, RV users, to connect different appliances from different manufactures and control them on common dashboard, alternativelly using one SIM card.
Nowadays some RV manufacturers started to integrate their own solutions with the same goal. Unfortunatelly pressure for low development and production costs, short deadlines and sometimes lack of expertise can result in user unfriendly controls and high power consumption. Such a products are then limited in terms of connectivity, compatibility and security, when customers are forced to use cloud based applications and without internet connection or complicated registration they can not control basically anything.
Maybe that is why right you are now on this webpage trying to find alternative how to turn your RV into a real smart home, having extra features such as security functions or precise gas measurement for composite gas cylinders.
Our patented cloud-free solutions are available to rid you off your possible dissatisfaction with your current control system, to merge all your existing controls and SIMs into one or even replace your electroblock and its control panel.
From the very beginning, CaraControl system was designed to be as universal, user-friendly and anonymous as possible, allowing it to be connected to third-party devices, such as heating panels, air conditioning or electroblocks to cover any owner of practically any leisure vehicle in question.
We in CaraControl always think as caravanist itself and all the components we design and produce in-house. Thanks to this fact we deliver to the market future-proof certified automotive products with added customer value.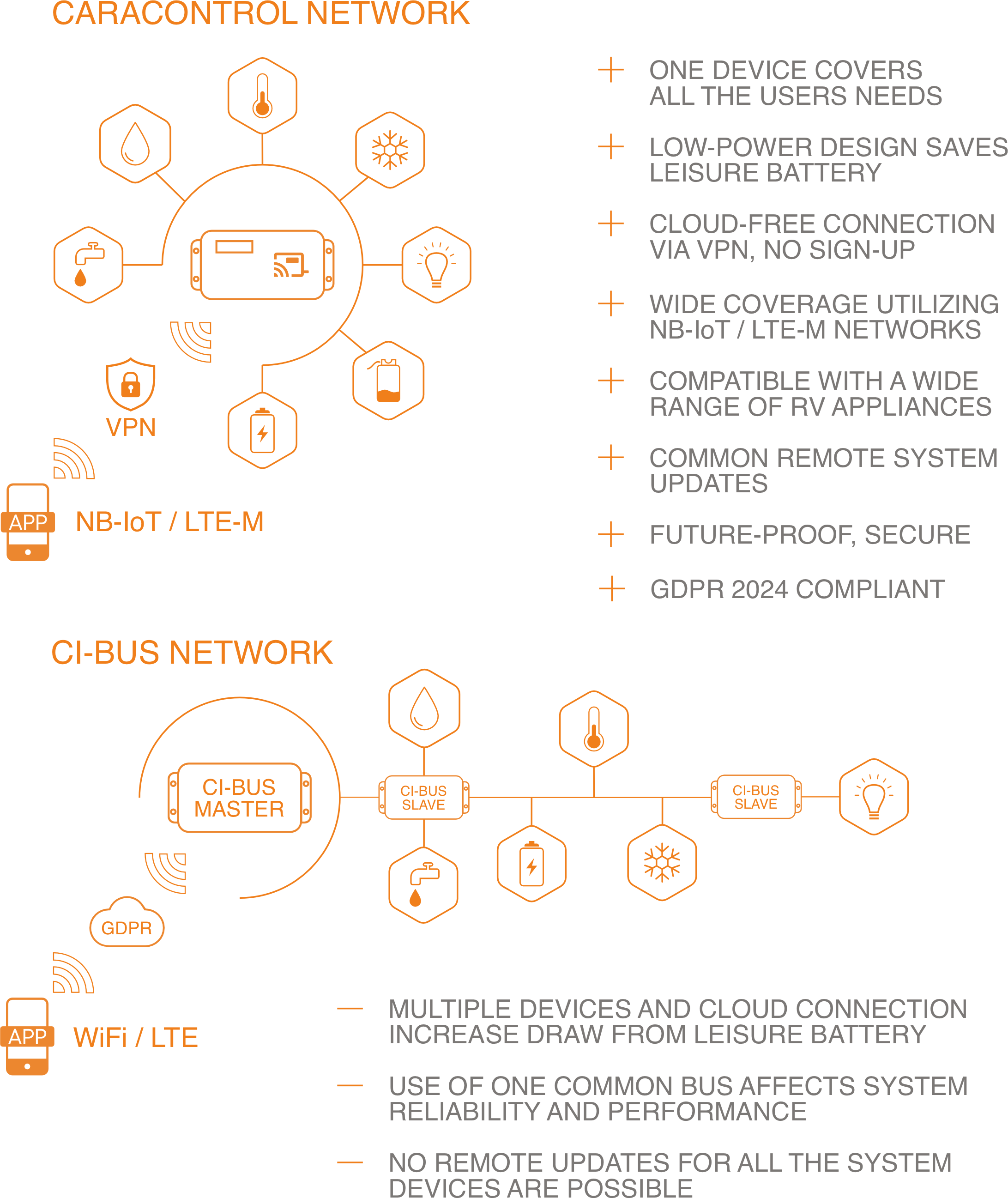 Key features
Interconnection with existing electroblock or independent operation
Universal design granting compatibility with nearly all leisure vehicles
High quality automotive hardware based on the latest technologies
Wireless communication via Bluetooth, GSM or NB-IoT network
Automatic remote updates adding new functions
Configuration options to satisfy your preference
Keyless Welcome Home function
Unparalleled compatibility with RV industry devices 
Application runs in multiple languages
Minimal impact on the leisure battery life
SMART APPLICATION FOR MOBILE DEVICES
The CaraControl app is a native and user-friendly software available for iOS and Android. Allow yourself to enjoy maximum control and peace of mind wherever you are, now also in several languages. Feel free to download our app on Google Play or AppStore free of charge and try the demo mode to get the feel of our system.